Los Campesinos! - Hold on Now, Youngster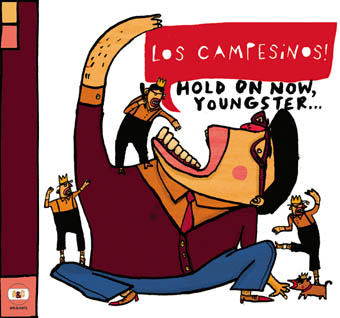 Welsh septet (!) Los Campesinos! is one of many bands releasing their debut full-length in 2008 while attempting to deliver on a promising EP. Their brand of indie pop is full of shout-along verses and choruses as well as slightly out-of-the-ordinary instrumentation (glockenspiels and violins are prevalent in their songs). However, instead of distracting from the rest of the music, they serve as just two more pieces of the whole; each instrument (including vocals) assists in completing the songs and makes them more enjoyable.
One of the things I liked about last year's EP was how FUN it was. Every song made me want to jump around and dance like a maniac. Though the album is longer, most songs still have a similar effect. Single "My Year in Lists" exemplifies this quality; the drumming provides a solid beat and lyrics about the romantic implications of decorated stationary and the breaking of New Year's resolutions will make you laugh or at least crack a smile, guaranteed. The chorus also is one of the album's catchiest (employing the previously mentioned violin and glockenspiel to great effect; the chorus wouldn't be as memorable without them, though they hardly distract from the rest of the music). Another highlight is opener "Death to Los Campesinos!," whose lyrics I really love, speaking of being "better off with artificial intelligence" and "ctrl-alt-deleting your face with no reservation." This album isn't only new in sound, its lyrics are also contemporary, which I enjoy (if you read my last article, I'm somewhat tired of the obscene amount of new music that would have sounded just as comfortable in the 70s or another previous decade as they do today).
Indeed, one strong point of Los Campesinos! is their lyrics. Most bands often get lazy and sort of add lyrics as an after sight, but in LC!'s case, lyrics really add something to the song, usually a certain sort of giddiness and excitement (and they're clever to boot). It's obvious that the band pays more attention to writing lyrics than most bands (or else they're just naturally good at it). My personal favorite are in "We Are All Accelerated Readers," where they're about relationships, but in a cleverer (there's that word again) way. Instead of whining about breaking up, they ponder the point of entering relationships in the first place:
You should have built a statue
And so I did of you
But you were ungrateful and slightly offended at the dimensions of it
You said you look less like the Venus de Milo
And more like your mother in a straitjacket
I think it's great that you're doing fine now, but enough is enough
And I've had enough
It's a unique perspective for a pop song to take, which is pretty refreshing. Also in the song is favorite and probably soon-to-be frequently quoted lyric, "The opposite of true love is as follows - reality!"
There are a couple tracks I'm not too fond of, however: both "Knee Deep at ATP" and bonus track "2007, The Year Punk Broke (My Heart)" deviate from the Los Campesinos! norm by spending their duration building from quiet to loud, sparse instrumentation to a cacophony of sound (the former being the most obvious). I give them points for trying something different, but the music in both the songs is unremarkable, and I find the climaxes to be sort of, well, anti-climatic. However, "Knee Deep" has more excellent lyrics; "2007" is really the only song on the album that lacks in that department.
The 12 song album also has three songs from previous releases (including one of 2007's best songs, "You! Me! Dancing"). The three songs are all great, but I hope this doesn't mean the band is running out of ideas. I would hate to see their next release be a disappointment by being unoriginal because as the moment, Los Campesinos! is anything but; it's a hard task for a band to make music fun again in this day and age, but LC! are succeeding with frantic pop songs and lyrics to match. I'm sort of apprehensive about what will happen next, but that doesn't mean I won't enjoy this album in the meantime.
Rating: 9/12
Key Tracks: Death to Los Campesinos!, My Year in Lists, We Are All Accelerated Readers
Listen:
myspace
Addendum: I'm in sort of a unique position to review this album; I heard the EP last year and played it literally all the time on my radio show, and now I'm studying in a country they tour in all the time (living near Wales and all). The album already came out here last month, but isn't out in the States until April 1. Judging by their huge rise of popularity over here since the album came out (selling out shows in small and midsized venues in the UK and Ireland), their upcoming U.S. tour should be a rousing success. I had the pleasure of seeing them live in Ireland and they were definitely a lot of fun. See them in NYC or Boston this May!