Hello, listeners of WRPI's fine indie programming! What follows is the first of hopefully more posts about new, exciting and original current music. The first volume of this series explains the appeal of one of contemporary music's most thrilling bands, We Versus the Shark.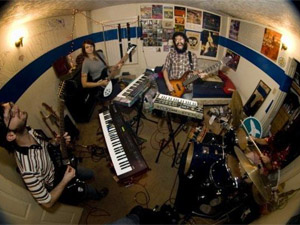 So as a college student, I spend a lot of time on my computer listening to music. A copious amount of new music gets released every single week, so much in fact that it can become overwhelming to keep up with it all. Often times it becomes pretty easy to just play some old favorites (in my case, usually Pavement or Archers of Loaf) instead of sifting through the large amount of strikingly similar bands. Popular music among the indie crowd today includes a countless number of overhyped slow folk/70s revival dream pop artists such as Fleet Foxes, Bon Iver and Grand Archives (who started out promising but ended up kinda bland) and dance rock bands such as 90% of all up-and-coming artists in England (seriously, it's kind of ridiculous) trying to be the next Hot Chip or LCD Soundsystem. This can become frustrating to the average music listener, trying to differentiate seemingly hundreds of bands from the same genre. Why bother with music when it lacks originality, right?
Please do not fret, fellow music aficionados! I am here to tell you that not all hope is lost. There are still some bands creating unique styles of music, playing unique stuff that you've most likely never heard before. One band that exemplifies these qualities is Athens, GA four piece We Versus the Shark, and 2008 is shaping up to be their breakthrough year.
I first heard of this band through their 2005 debut album "Ruin Everything!," which is incredibly consistent throughout and is one of my personal favorite albums. It's hard to describe the music played on the album, but I'll do my best: chaotic yet controlled and tight. The musical chops of all four members are obvious throughout the release, from the technical and aggressive guitar work of Luke Fields and Samantha Paulsen to the tight rhythm section of bassist Jeff Tobias and drummer Scott Smith. Each song on the album goes through, at the least, several hooks which tend to vary in time signature. It's music to dance to (anyone who has seen me listen to it could attest to this) but mainly it's music to drop your jaw to. The precision and beauty in the madness is a wonder to behold, and the fact that all ten songs on the album are so engrossing makes it all the better. The band ended a two year silence in recorded material last year with the release of the EP of Bees EP (which listeners of my show may have heard from time to time), featuring four more songs in a similar vein to and just as excellent as the ten tracks that make up Ruin Everything!
Furthermore, the band kills it live. I had the pleasure of seeing We Versus the Shark in Boston and Albany last year, and was blown away both times. Both times, they failed to play any songs from Ruin Everything! and I was still left unable to competently describe the experience. From seeing them live, one can easily tell that this band just loves playing music and are thrilled to do so for an audience. All four members play off each other, which makes the band seem like a fluid, well-oiled machine. Basically, everything just seems so natural. Perhaps this is why Ruin Everything! and their soon-to-be-released full length, Dirty Versions, were both recorded live; a band this comfortable, this fluid and
this good
should just record an album by doing what they do best, that being playing music together as a unit and not separately.
Since I just mentioned their new album, let's talk about that now. I've been looking forward to We Versus the Shark's next full length since hearing Ruin Everything! a couple years ago, and the moment has finally arrived! Dirty Versions, the official follow up, will be released this April, and two new songs ("Hello Blood" and "I Am a Caffienated Corpse") are currently streaming on their
myspace
. There are several reasons for my excitement about the new album, one being that the music has a very sludgey, dirty (hence the name) feel that differs greatly from Ruin Everything! and another being that yes, these new songs sound so different from Ruin Everything! and are still amazing. One thing that always impresses me in a band is their ability to change their formula from album to album and still end up sounding great (which is why I love bands like Pavement and Modest Mouse). Clearly, We Versus the Shark possesses this quality, yet another reason why this is one exciting band to watch.
One new album not enough for you? We Versus the Shark has seen fit to release another album's worth of material throughout the course of 2008. The album, titled Murmurmur, will eventually consist of 12 songs, with one song released at the beginning of each month of the year. Bands covered so far have been very diverse, from January's choice of "Right Away" by Pattern Is Movement, February's choice of "Greatest Gift" by 80s noise rock band Scratch Acid, and March's choice of "Dirt in the Ground" by the one and only Tom Waits. Clearly, the band's influences run a pretty expansive gamut, which is indicative of their already established musical diversity. It will be exciting to see what else the band will come up with in the future, which is more than I can say for a good amount of bands playing music today. The songs from Murmurmur are free to download from donation-based
Quote Unquote Records
.
Next, here is a video of the song "Party Animal" (track 11 of the upcoming Dirty Versions) at CMJ 2007. This video showcases the previously mentioned qualities of their live show, as seen from the impromptu dancing at the 2:50 mark and the guitar/drums interplay starting at the 5:40 mark:
Finally, I'd be remiss not to mention other bands related to We Versus the Shark and their label, Hello Sir Records. So Many Dynamos, coming off of 2006's excellent album Flashlights (released by Hello Sir on vinyl), have finished recording their next full length, which should be released later this year. Judging by live performances of the new stuff, it will be just as good as, if not better than, Flashlights (anyone seeing the band at RPI's Ground Zero last fall can attest to this). I could write another story about these guys (maybe I will someday!). Another band to watch out for is Cinemechanica, fellow city and labelmates to We Versus the Shark. The follow-up to their guitar-heavy debut The Martial Arts should be out either later this year (the band states on their website that they were writing in January) or next year.
In conclusion, yes, music is still exciting.
Listen: We Versus the Shark "Slide" from Ruin Everything!
mp3